Pecket Well is a beautiful Pennine village on a south-facing hillside just a mile from Hebden Bridge. It borders the National Trust Woodland of Hardcastle Crags and Crimsworth Dean and enjoys one of the most famous views in Calderdale over the hill tops, the ancient village of Heptonstall and to the Stoodley Pike monument beyond.
It is surrounded with open countryside with superb walks over open moorland towards Haworth and Luddenden. Woodland walks in the National Trust woodlands, the visitor attraction of Gibson Mill and the tranquil setting of the waterfall at Lumb Falls are also on the doorstep. The route of the Calderdale Way runs through the village and the Pennine way is just two miles away.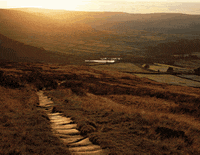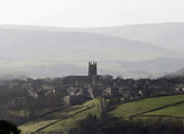 Pecket Well is a community in its own right thanks to amenities like the 17th Century Robin Hood Inn and the facilities of the neighbouring village of Old Town. Old Town and Pecket Well are served by Wadsworth Parish Council and benefit from a popular primary school. Old Town also has a Post Office/grocery/off-licence, Equestrian Centre, Bowling Green, Football Club, Cricket Pitch, Children's Playground, the Hare and Hounds Pub and just beyond Wadsworth is Mount Skip Golf Club.
The lively cosmopolitan mill town of Hebden Bridge is just a mile away with a full range of shops, bars, restaurants, schools and other amenities.
Haworth
The road through Pecket Well also leads directly to Haworth which is just 5 miles away. Keen walkers may prefer to walk the old Haworth road over the open moor. Haworth is famous as the home to the Brontes and is also popular for the Keighley and Worth Valley Steam Railway which runs daily through from Oxenhope to Keighley and makes a great day out.